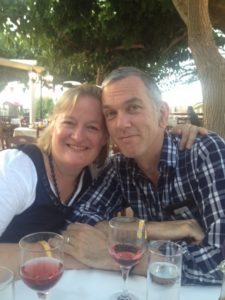 The Trust's founders:
Bridget Macaulay worked for several years in the Health Service as an occupational therapist (including a brief spell in Rwanda) spent a year or two living and working in community,  and then did a theology degree at Trinity College in Bristol, before moving to Edinburgh to join Kenny.
Kenny did a Maths degree at Strathclyde and then worked in lay student chaplaincy for several years in Glasgow, Edinburgh and Manchester.
They worked together running student groups in Edinburgh and running away from ordination which eventually caught up with them in 1998 when they were deaconed and later priested in the Scottish Episcopal church. Their first daughter was born the same year. They job shared their curacy and first parish job in Edinburgh city centre and had two more daughters to keep the first one company. Parish work  focused at this time on children and families work. They set up The Coracle Trust in 2001 which initially employed them part time alongside their parish work and eventually they worked full time with Coracle.
In 2008 they moved to Cornwall to be the warden/chaplain/director at Epiphany House, a retreat and conference centre in Truro. Since 2011 they have been working as self supporting ministers in Truro diocese. Kenny has been working in the building trade and as a painter and decorator and Bridget as an artist and spiritual director. Both serve in the ministry team of the Mounts Bay United Benefice and give time to developing the work of Vessel.